Pros
Fast and free withdrawals
Copy trading accounts
Cons
Limited range of assets
Restrictive account types
Is Octa Safe?
We consider Octa to be a high-risk broker because Ugandan traders have no recourse in the event of a dispute with the company.
Regulation: Octa has a good reputation, but is only regulated by a single tier 2 regulator: CySEC in Europe. Even more concerning, Ugandan residents will be trading under the subsidiary Octa Markets Incorporated, registered with St. Vincent and Grenadines FSA.  The SVG FSA is not a regulator and does not supervise trading or protect traders.
On the other hand, Octa does have a good reputation, and its European operations are overseen by one of the better regulators in Cyprus. But Ugandan clients must rely solely on the reputation of Octa as no additional measures exist to ensure client protection.
Safety Features: In a show of good faith, Octa segregates all funds from the company's operating capital and offers negative balance protection to all its clients.  No regulatory oversight also means that Octa can offer higher leverage and bonuses to Ugandan traders, which may be attractive to some.
Company Details:
Scroll for more details


Octa's Trading Instruments
Octa offers all of the major classes of trading instruments, but the range of instruments in each class is slightly below the industry average. 
High Leverage: Octa does have 30 cryptocurrencies to trade at 25:1 leverage. This isn't the largest selection in the world, but it is wider than most other brokers. Leverage is up to 500:1 for Forex trading. 
Full list of Instruments:
Scroll for more details


Forex:

Octa only has 35 currency pairs, fewer than most other brokers, but the leverage on Forex pairs is up to 500:1.

Indices:

There are 10 indices available for trading at Octa. Leverage is up to 1:50 on indices.  

Commodities:

Octa offers trading on 5 commodities: Gold, Silver, Natural Gas, Brent Crude, and WTI crude. Leverage is up to 1:50 on commodities.

Cryptocurrencies:

30 crypto pairs are available to trade 24/7. These include Bitcoin, Ethereum, Litecoin, Ripple, and more.  Leverage on crypto pairs is higher than other brokers, at 1:25.  

Equities: Octa offers trading on 150 equities at 1:20 leverage, a smaller range than other large international brokers. 
Note that traders can only trade on 74 of Octa's 230 instruments on the MT4 Account, but the full range of instruments is available on the MT5 Account. 
Overall, Octa has fewer instruments for trading than most other brokers but offers all the major asset classes. 
Accounts and Trading Fees
Octa has two trading accounts with very low costs, but we found the rules on leverage restrictive. Each account is linked to a different trading platform but is otherwise similar.
Trading Fees: Both of Octa's accounts require a minimum deposit of only 25 USD, and each account is associated with a different trading platform (MT4 or MT5). Fees are the same on both accounts.
Account Trading Costs:
Scroll for more details


Trading costs at other brokers tend to be 9 USD per lot of EUR/USD, making Octa one of the lowest-cost brokers in the industry. We were also pleased to find that both accounts are swap-free. 
MT4 Account: The MT4 Account requires a minimum deposit of 25 USD, and no commission is charged on trades. Spreads start at 0.6 pips (EUR/USD) and average at 0.7 pips, tighter than other similar brokers. Leverage is up to 500:1 for Forex trading, and the margin call/stop out is 25%/15%. Metals, indices, and cryptocurrencies are also available to trade, but not equities.
MT5 Account: The minimum deposit is also 25 USD on the MT5 Account. Spreads start at 0.6 pips, and average at 0.7 pips on the EUR/USD, and no commissions are charged. The MT5 trading platform has some extra features, including depth of market, an integrated economic calendar, and full-size tick charts.  Traders can access Octa's full range of financial instruments on this account.
Leverage Restrictions: Octa has a couple of odd rules on leverage: Traders can only modify their leverage levels once every 24 hours, and the following leverage restrictions apply to all deposits:

Deposits and Withdrawals
We were impressed to find that Octa offers a good range of funding methods, and deposits and withdrawals are free and fast.
Like most brokers, Octa does not allow funding to or from third parties. All withdrawal requests from a trading account must go to a funding source in the trader's name.
Accepted Deposit Currencies: Ugandans will be disappointed that Octa only allows trading accounts to be denominated in EUR and USD. Always check the exchange rate when converting from UGX to other currencies, as hidden conversion fees can make trading expensive and affect profitability.
Funding Methods: Octa does not charge any deposit or withdrawal fees. See below for a list of methods:

Demo Contests
Octa runs demo account contests on the MT4 platform.  The demo contest runs for 4 weeks and the participant with the largest demo account balance at the end of the period will win 500 USD, with smaller prizes for the rest of the top five. 
Octa 16 Cars Competition
To enter this contest, traders must open an MT4 account and denominate it as their contest account.  Traders then have to make the highest possible profit and traded volume with the best profit/loss ratio.  The closer traders are to the top in these three categories, the higher their chances of winning.  
Trade & Win: Get Gadgets for Trading
The Trade & Win promotion gives traders free prizes and gadgets based on their trading volume. For instance, if you have traded 150 lots with Octa you may be eligible for an Android smartwatch. Other prizes include phones and even laptops.
Opening an Account at Octa
The account opening process at Octa is hassle-free and fully digital and accounts are ready for trading immediately. Account verification is only required for withdrawals.
All Ugandan residents are eligible to open an account at Octa if they meet the minimum deposit requirements stipulated by their chosen deposit method.  
Creating an account is straightforward, the process is fully digital, and accounts are available for trading immediately:
New traders will have to click on the "Open Account" button at the top of the page where they will be directed to register an account.    
Octa's intake form requires clients to register an account with an email address and a password.

Next, new traders are directed to fill in their personal details (including name, country of residence, email address, birth date). 

Traders then need to select their preferred account type (MT4 or MT5), live or demo account, level of leverage, and account base currency.

Once this step is complete, traders can make their first deposit via several payment channels and can start trading. 

Traders are only required to submit any verification documents to Octa when they want to withdraw funds.

These include:

Proof of Identification – Octa accepts all government-issued identification documents such as passports, national ID cards, driving licenses, or other government-issued IDs. 

Proof of Address – Proof of residence/address document must be issued in the name of the Octa's account holder within the last 6 months and must contain a trader's full name, current residential address, issue date, and issuing authority. 

We advise that you read Octa's risk disclosure, customer agreement, and terms of business before you start trading. 
Overall, Octa's account-opening process is fully digital and hassle-free, and accounts are available for trading immediately.   
Trading Tools
Octa has a greater range of useful trading tools than other similar brokers. 
Alongside industry standards such as an Economic Calendar, Profit, and Trading Calculators, Octa also offers an Account Monitoring tool and Autochartist.
Account Monitoring Tool:

The Account Monitoring tool allows traders to monitor any other Octa trader's account and sort by Balance, Gain, Trades, and Account Type. This tool also allows you to dig into the history of an account so you can learn how the account holder has managed their success. Accounts are only represented by numbers, so all holders remain anonymous.

Autochartist

:  Octa also supports Autochartist, the industry-standard trading signals provider. Autochartist provides traders with automated alerts for opening and closing trades, a volatility analysis tool that allows you to better optimise take-profit and stop-loss levels, and integrated market reports. Autochartist is available on both MT4 and MT5 and requires a minimum balance of 500 USD in your Octa account.  
Trading Tools Comparison:
Scroll for more details


Overall, Octa offers a good range of trading tools, including Autochartist, one of the best technical analysis tools in the industry. 
Octa For Beginners
The educational material at Octa and its alternative website is good but focused on new traders; for more experienced traders there is little in the way of educational support. Customer support is competitive but where Octa really shines is in the research and market analysis available.
Educational Material
The educational materials available at Octa are more comprehensive and in-depth than what is available at other brokers, but it is more geared toward beginners than experienced traders.  
Trading Tiger Academy: Octa launched tradingtiger.pro, an online trading academy for new traders. The site features a range of short tutorials covering everything you need to know to get started – from Forex Fundamentals to Predicting the Market. Each tutorial is a mix of video and text and is well-packaged and easy to understand; learners are tested frequently on the material and the entire website is free of charge. Overall, an excellent resource for beginners traders and we hope Octa considers expanding it to include intermediate and advanced courses and brings the course in-house. 
Forex Basics: Back on Octa's main website, the in-house education section is anchored by a collection of articles collectively called Forex Basics. Article topics range from explainers on ECN trading and Risk Management to Technical Analysis and Trading Strategies as well as more advanced concepts such as Pair Correlations and Fibonacci Retracements. These articles are detailed and well-written and offer valuable advice for new and intermediate traders.
Octa is also very active on YouTube, with a range of live trading sessions and webinars taking place on a regular basis. In addition, a workshop for novice traders is held every Saturday. 
Tutorials: Also on the main site, there is a short Tutorial section covering the MetaTrader platforms, CopyTrading, Autochartist, and CFDs, and a Video Tutorial section focused on getting started with MetaTrader. Finally, there is a FAQ section and a useful glossary of Forex trading terms. The education section also has links to the Manuals for the different platforms Octa supports (MT4 ad MT5).
Overall, Octa's educational materials are some of the best in the industry, but it could look at including content that is more suitable for advanced traders.  
Scroll for more details


Analysis Material
Like its education section, the market analysis materials available at Octa are better than most other brokers. 
Market Insights: Octa has an excellent Market Insights section which is updated frequently. Regular posts include a Daily Forecast, a Daily Review, and Weekly Review. These posts frequently offer predictions of future market movements – but be cautious and do your own research before acting on any predictions.
Octa YouTube Channel: The Market Insights section also has a daily video series, uploaded to the Octa YouTube channel, called Market in a Minute, which covers all the big news from the Forex markets for the preceding trading day. In addition to all these regular updates, there are irregular short pieces published in reaction to trading events with detailed technical insight.
Forex News: Octa also hosts a Forex News section, with short briefings on all the major news stories affecting the Forex markets, this is updated over the weekend and the articles are well-written and concise. These briefings are offered without any suggestion of how the events will affect the markets.
Customer Support
Octa customer support is open 24/7 via live chat and 24/5 via phone (with local numbers for the UK, Hong Kong, and Indonesia), email, WhatsApp, and Telegram.
Additionally, the Finance Department is open from 06:00 – 22:00 (EET), and the customer verification department is open from 08:00 – 17:00 (EET) for account setup and troubleshooting queries.
We found the support team very responsive, but uninformed.  It was difficult to find answers to our questions about the swap fees of the MT5 account.
Regulation and Industry Recognition
Regulation: Octa is regulated by the Cyprus Securities and Exchange Commission (CySEC) and registered with the Financial Services Authority of St Vincent and the Grenadines (SVG FSA): 
Octa Markets Cyprus Ltd is an investment firm registered in Cyprus and regulated by the CySEC since 2018 (

license 372/18

). This enables users to trade with a broker under European regulatory oversight with enhanced levels of safeguards.

Octa Markets Incorporated is registered in Saint Vincent and the Grenadines (SVG FSA).
The FCA (the UK's Financial Conduct Authority) briefly regulated the company from 2015 to 2017 (ref: 679306) but decided not to renew its licence after the Brexit referendum and instead kept its focus on the EU market.
Industry Recognition: Octa has received plenty of industry recognition in recent years, winning Best ECN broker 2021 (World Finance), Decade of Excellence in Forex Asia 2021 (Global Banking and Finance Review), Best Forex Broker Asia 2021 (Global Banking and Finance Review), Most Transparent Broker 2020 (Forex Awards), Best Forex Broker APAC 2019 (Global Banking & Finance Review), and Best Mobile Trading App 2019 (European CEO Magazine).
Our sister site FXScouts also awarded Octa Best Forex Copy Trading Platform 2020 for its innovative approach to copy trading.  
Octa In Their Own Words
Evaluation Method
We value transparency and openness in the way we review the partners. To bring transparency to the forefront, we have published our review process. Central to that process is the evaluation of the reliability of the broker, the platform offering of the broker and the trading conditions offered to clients, which are summarised in this review. Each one of these is graded, and an overall score is calculated and assigned to the broker.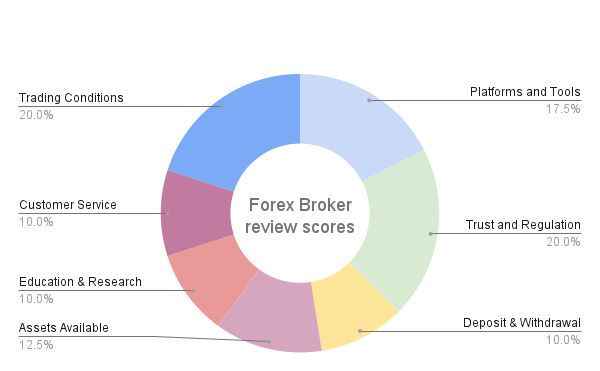 Octa Disclaimer
Trading Forex is risky, and each broker is required to detail how risky the trading of Forex CFDs is to clients. Octa would like you to know that: Forex margin trading involves substantial risks. Forex margin trading exposes participants to risks including, but not limited to, changes in political conditions, economic factors, acts of nature and other factors, all of which may substantially affect the price or availability of one or more foreign currencies.
Overview
Octa is a decent all-around broker with two glaring problems. The first is the lack of decent regulation, which for many traders will mean an immediate end to their interest. Secondly, Octa has a limited range of financial instruments, although, in October 2022, it added a range of equities to its offering.
Otherwise, Octa is good or excellent across the most important areas. Octa's trading costs are some of the lowest in the industry, and it has no swap fees. Its intuitive yet sophisticated copy-trading platform was the recipient of our Best Copy Trading Award for 2021. It has an excellent analytical section, well-designed education for beginners, world-class trading tools, and a range of exciting bonus options for traders.  Additionally, its customer support is available 24/7, which is exceptional in an industry where the norm is 24/5.
Compare Brokers
Find out how Octa stacks up against other brokers.