Pros
Low minimum deposit
Tight spreads
Well regulated
Good range of accounts
Is HFM (formerly known as HotForex) Safe?
Although Ugandan traders are onboarded through HFM's Saint Vincent and the Grenadines-based entity, which offers very little protection, we consider HFM a trustworthy broker.
Regulation: Although HFM has an excellent reputation in the Forex trading community, Ugandan traders will be onboarded through its subsidiary registered with Saint Vincent and the Grenadines FSA. The SVG FSA is not a regulator and does not supervise trading or protect traders.
On the other hand, HFM does have a good reputation, and its other operations are overseen by some of the better regulators in Europe, including the UK's FCA and CySEC of Cyprus. But Ugandan clients must rely solely on the reputation of HFM as no additional measures exist to ensure client protection.
Safety Features: In a show of good faith, HFM segregates all funds from the company's operating capital and offers negative balance protection to all its clients.  No regulatory oversight also means that HFM can offer higher leverage and bonuses to Nigerian traders, which may be attractive to some. 
Company Details:
Scroll for more details


We confirmed each of the licences and regulations on the regulator's online register. See below for details of HFM's SVG registered entity:

HFM (formerly known as HotForex) Trading Assets
We were pleased to find that HFM has recently reintroduced cryptocurrencies to its offering, a good move considering how popular this asset class has become. It also offers trading on a wide range of stocks, including those listed on the JSE. 
Cryptocurrencies:  HFM recently (at the end of 2021) reintroduced its range of cryptocurrencies. It has 40 pairs, including favourites such as Bitcoin, Ethereum, Dashcoin, and Litcoin. Leverage is up to 50:1 on pairs such as the BTC/USD, a higher level of leverage than is typically offered on cryptos by other brokers. 
Stocks: Ugandan traders will be pleased to see that HFM offers a range of stock CFDs, including those listed on the JSE, such as Anglogold Ashanti and Firstrand Ltd. It also offers over 950 DMA (Direct Market Access) stocks, allowing clients to trade directly on stock exchanges from around the world, but this product line is only available on MT5.
Full List of Instruments and Leverage*:
Scroll for more details


Forex pairs:

HFM offers 53 Forex pairs to trade, including majors, minors, and exotics such as USD/EUR and USD/JPY. While this is a substantial number, other brokers will offer 60+ pairs to trade. Maximum leverage is 1:2000.

Metals:

HFM offers silver and gold crosses with both the EUR and USD, as well as palladium and platinum futures. This is an average selection of metals compared to other brokers. Maximum leverage is 1:2000 on XAU/EUR and XAU/USD, but falls to 1:20 on palladium futures.

Energies:

HFM offers spot and futures contracts on both Brent and WTI oil. The maximum leverage is 1:66.

Indices:

HFM offers spot and futures contracts on a range of international indices, including the NASDAQ, S&P500, FTSE100, DAX30, and the Nikkei. This is a broad range of indices compared to other brokers. The maximum leverage is 1:200.

Shares:

HFM offers 111 share CFDs to trade, including popular US tech companies and multinational energy companies alongside some of the key constituents of the JSE, such as BAT and Absa Group. While this may seem like a smaller range of share CFDs than other brokers, HFM also offers 950 DMA stocks available only on MT5. The maximum leverage is 1:14.

Stock DMAs:

In addition to its range of share CFDs, HFM also offers 950 DMA stocks, a larger range than other brokers. The maximum leverage is limited to 1:5

Commodities:

HFM offers five of the most common commodity futures to trade, such as coffee and sugar. Maximum leverage is 1:66

Bonds:

HFM offers CFD trading on the three most popular bonds in the world – UK Gilts, Euro Bunds, and the US 10-year. The maximum leverage is 1:50.

Cryptocurrencies

: HFM offers 40 crypto pairs to trade, including Bitcoin, Ethereum, Dash, and Litecoin. Leverage is up to 50:1 on cryptos, but traders should be aware of trading with high leverage on such a volatile asset.

ETFs:

Exchange Traded Funds have rapidly gained in popularity in recent years, and HFM offers spot contracts on 34 of the most traded ETFs in the world. The maximum leverage is 1:5.
Overall, we were pleased with the range and depth of financial assets available at HFM. The reintroduction of cryptocurrencies will be a major drawcard for the broker.

*Certain products & services may or may not be available to all clients depending on which HF Group entity their trading account(s) adheres to.
HFM (formerly known as HotForex) Accounts and Trading Fees
HFM offers five account types, which is more than most other brokers. In May 2023, HFM restructured its accounts, removing the minimum deposits on three of its five accounts and increasing leverage from 1:1000 to 1:2000. 
Trading Fees: Despite the variation, overall trading costs are lower than average across all four accounts, and the accounts offer different benefits in terms of trading strategies and minimum deposits. 
Account Trading Costs
Scroll for more details


Cent Account
The Cent Account is good for beginner traders who want to keep risk as low as possible while learning. With no minimum deposit requirement and trades denominated in USD cents (USC) rather than USD, trading costs are very low on this account, though potential profits are low too.  Variable spreads start from 1.2 pips on major pairs, leverage is up to 1:2000, and traders can open a maximum of 150 positions simultaneously. Because this is a Cent Account, it is only denominated in USC.
Premium Account
The Premium Account is a good entry-level account for beginner traders, with no minimum deposit requirement.  Variable spreads start from 1.2 pips on major pairs,  which is tight for an account with no minimum deposit requirement, and no commissions are charged. Leverage is up to 1:2000, traders can open a maximum of 500 positions simultaneously, and this account is denominated in both ZAR and USD.
ZERO Account
This is a market execution account with spreads starting at 0 pips on the EUR/USD.  Where previously there was a minimum deposit requirement of 200 USD to open the ZERO Account, there is now no minimum deposit requirement. As with all raw spread accounts, you will be charged a commission – in this case, the charge is 3 USD per lot (6 USD total round turn) on major forex pairs. These are some of the lowest trading costs in the industry.
Pro Account
With ultra-low spreads, leverage up to 1:2000 and no commissions; the Pro account caters to more experienced traders who want to take their trading to the next level.  Spreads start at 0.5 pips (EUR/USD), which is much tighter than other brokers, and the account has a reasonable minimum deposit requirement of 100 USD/1500 ZAR. 
HFcopy Account
The HFcopy Account is available to both Strategy Providers (SPs) and Followers who have joined HFcopy. SPs can open an HFcopy Account to build their inventory of Followers and trade in exchange for a Performance Fee as high as 50%.  Only available on the MT4 platform, the spread starts at 1 pip, and trading instruments offered on this account are limited to Forex, Indices, and Gold.  The minimum deposit is 300 USD for SPs and 100 USD for Followers, and accounts are only denominated in USD.
HFM (formerly known as HotForex) Deposit & Withdrawal
HFM charges no fees for deposits and withdrawals, but withdrawals via credit and debit cards take up to 10 days to be processed, which is painfully slow compared to other brokers.
As a regulated broker, HFM ensures that all Anti-Money Laundering rules and regulations are followed. As such, all non-profit funds are returned to the original deposit source. 
Accepted Currencies: When we opened our account at HFM, we were given the choice of four base currencies: USD, EUR, NGN or JPY. 
Local bank transfers: We were pleased that HFM offers free online bank funding for clients with online bank accounts. This is a much faster method of depositing and withdrawing funds than a standard bank wire, with deposits reflecting almost instantly and withdrawals received within 2 business days.
Traditional deposits are handled on weekdays and conditions apply to each deposit option.
Bank Wire – HFM will cover the fees for transfers over the minimum amount of 100 USD. The funds will be added to your trading account within one business day of the funds reflecting in HFM's account.

Visa/Mastercard and Skrill – A minimum deposit of 5 USD is required and will take approximately 10 minutes to reflect in your trading account. There are no fees for this deposit method.
Traditional withdrawals are processed within 24 hours (weekdays only) of receiving them, but different conditions apply to each payment method.
Bank Wire – No fees and a minimum withdrawal of 100 USD. Bank wire withdrawals can take 2-10 days to receive, depending on your bank.

Visa/Mastercard and Skrill – No fees and minimum withdrawal of 5 USD. Card withdrawals can take 2-10 business days, depending on your bank, but Skrill withdrawals are almost instant.
HFM (formerly known as HotForex) Mobile Trading Platforms
HFM has recently upgraded its mobile trading app, which is now highly customisable and easy to use. It also offers MT4 and MT5 mobile apps on Android and iOS.  
HFM App
Highly Customisable: A portal for MT4 and MT5, the upgraded HFM App is highly customisable, and has a sleek design and intuitive interface.  One of the best mobile trading apps available, we were very impressed with how traders can customise their chart types and views, change their trading and appearance settings, and choose whether they place an order based on the amount, lots, or in units:
The HFM App also allows traders to easily transfer, withdraw, and deposit funds, and has an integrated economic calendar. Traders can access HFM's educational materials (including registering for beginner, intermediate, or expert level webinars) and news based on their favourite instruments:
Overall, we think this is one of the market's most user-friendly and feature-rich apps, and the recent upgrade will certainly attract many traders.
MT4/MT5 Mobile Apps
We found that the HFM MT4 and MT5 apps allow traders to work from anywhere, with nine timeframes, 30 indicators, and interactive currency charts. We were able to close and modify existing orders and calculate profit/loss in real-time. We also find it easier to search for instruments than on the web trader versions of the platforms.
Other Trading Platforms
Like many other brokers, HFM offers MT4 and MT5 but does not offer its own desktop trading platform. 
While MT4 and MT5 are both excellent trading platforms, many other CFD brokers also offer their own web-based platforms, which tend to be easier to use for beginner traders. On the other hand, the benefit of HFM offering third-party platforms such as MT4 and MT5 is that traders can take their own customised version of the platform with them should they choose to migrate to another broker.
For the purposes of this review, we tested both of HFM's web trader platforms.
Scroll for more details


Metatrader 4 (MT4)
Our review found that HFM offers the standard version of MT4, which has 24 graphical objects and 30 built-in indicators. However, it also offers Premium Trader tools, available to clients who deposit more than 100 USD/1500 ZAR, which plug directly into the MT4 platform, enhancing its functionality (click here for more on Premium trader tools). 
We found that the platform's interface is dated but fully customisable. There are three chart types, including Line, Bar, and Candlestick charts and you can access a wide selection of indicators in multiple timeframes:

We also found it easy to add new charts: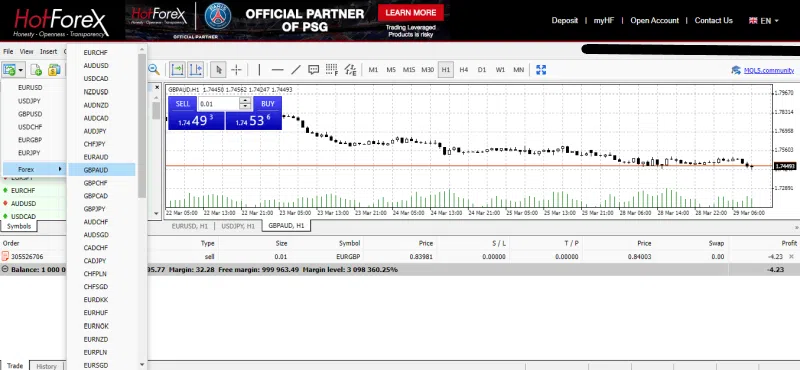 HFM also offers support for MT4 MultiTerminal, providing a convenient method of managing multiple accounts simultaneously from a single interface.
Metatrader 5 (MT5)
MT5, the newer version of its predecessor, MT4, is also available at HFM. We recommend using MT5 if you are looking for a more powerful and faster trading platform when it comes to back-testing functionality for automated trading algorithms.  Additionally, traders prefer MT5 for its depth of market display, additional technical indicators (38 as opposed to 30 on MT4), and analytical tools. 
In our review of MT5 web trader, we noted that it has a great depth of market display: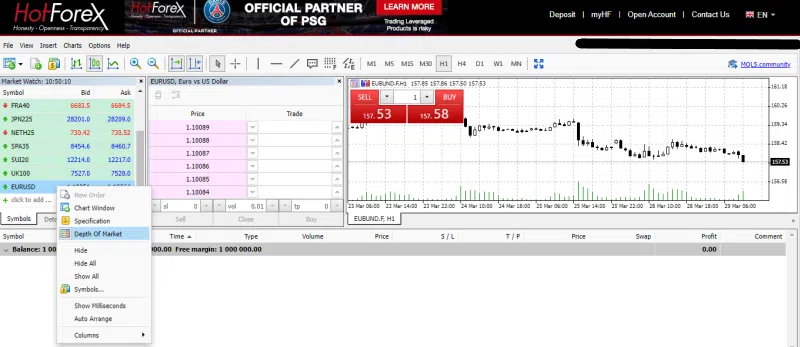 It is also much easier to search for an instrument to add to the market watch list than on MT4. You can simply type the name of the instrument: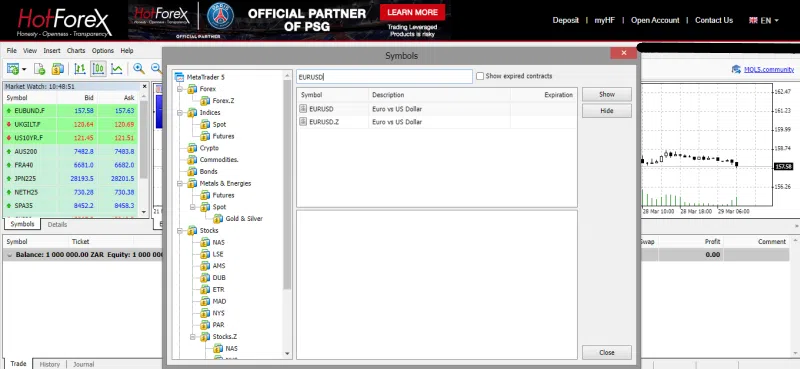 Both MT4 and MT5 are available as downloads, browser-based, and on iOS and Android devices. Mobile access is 24/7, and mobile apps employ the latest SSL encryption technology for security.
Overall, we found that HFM provides a good selection of third-party platforms but lacks its own in-house trading platforms, which are usually more user-friendly.
Opening an Account at HFM (formerly known as HotForex)
Opening an account at HFM is a quick and hassle-free process. However, it took two days for our accounts to be verified, which is longer than other similar brokers.
It took us about 3 minutes to open an account at HFM. We could immediately deposit funds into our accounts, but our accounts were only ready for trading after two days.
As a Ugandan trader you can open an account at HFM, but will need to meet all the minimum deposit amounts to do so; these are:
Premium Account: 0 USD
Zero Account: 0 USD
Pro Account: 100 USD
We found that opening a live account at HFM is easy and takes less than 3 minutes. While HFM also offers Corporate Accounts and Joint Accounts, we will focus on opening an Individual Account:
Initially, we were required to provide our country of residence, phone number, full name, email address, date of birth and password. We also had to choose the base currency of our account.





Once this step was complete, we accessed our MyHF dashboard. This is the administrative hub for demo accounts, live accounts, and finances.

From the MyHF hub, we chose our account type and submitted our Know Your Customer (KYC) documentation. HFM needed at least two documents to accept us as an individual client:

Proof of Identification – current (not expired) coloured scanned copy (in PDF or JPG format) of your passport. If no valid passport is available, a similar identification document bearing a photo such as an ID card or driving licence will work.

Proof of Address – a Bank Statement or Utility Bill. The documents provided should not be older than 6 months and your name and physical address should be clearly displayed.

Important Note:

The name on the Proof of Identification document must match the name on the Proof of Address document.

We were able to upload our documents directly from the myHF area; but you can also scan them and send them to [email protected].

We were also asked to complete a short form to help HFM assess the state of our finances and trading knowledge. While most brokers don't include this step in the account-opening process, it is a responsible move in an industry that is often accused of an irresponsible approach to consumer protection.


Once this step is complete, we were required to make at least the minimum required deposit for our chosen account via one of HFM's deposit methods.
Our documents were checked by the verifications department and were approved in around 48 hours, which is longer than other similar brokers. Note that any deposits will be credited to the account only after your documents have been approved and the myHF area is fully activated.
We advise you to read HFM's risk disclosure, customer agreement, and terms of business before you start trading.
HFM (formerly known as HotForex) Research and Trading Tools
Our review found that HFM has a competent in-house research team that produces high-quality and useful market analysis materials. It has also partnered with several third-party analysis companies to further enhance its offering.
Research
HFM's research and market analysis is divided into three main sections, each of which provides a specialised benefit for traders looking for market insight and trading opportunities.
Forex News – In partnership with FXSTREET, a respected market news aggregator and publisher, HFM provides a constant stream of news that impacts the markets. While the main focus is on geopolitical events and macroeconomic movements,  we found that there is some reporting on technical analysis – mainly from large banks and other financial institutions. With new stories every few minutes, 24/5, this is an excellent resource for traders using all types of strategies.
HFAnalysis – This is the hub for HFM's own market research content. The focus is a market news blog, split between fundamental analysis and technical analysis, and trader education. From here we were able to access monthly and quarterly outlooks, video analysis, special reports, and intraday charts. We were also able to access the HFM podcast; generally published mid-week this is a detailed look at recent market movements and a look ahead to potential market-impacting events. Overall, we found that the analysis provided by HFM's experts is detailed and accurate and is on par with the in-house research provided by other large international Forex brokers.
Advanced Insights – This plugin for MT4 and MT5 provides sentiment and volatility analysis from an insight engine that applies big data AI to millions of news articles and live trading positions. The plugin also provides a timeline of the upcoming events and presents detailed infographics on HFM's full range of assets. While this tool is provided free, traders will need to have deposited at least 100 USD and made closed trades worth 10 lots or more in the previous two months.
Trading Tools
We found that HFM offers an excellent range of trading tools, including Autochartist, a free VPS service, and a set of Premium Trading Tools. While all these tools are provided free, we were disappointed that traders are required to make a substantial deposit before access is provided.
Autochartist
For all HFM clients with a minimum deposit of 100 USD, Autochartist is an award-winning automated technical analysis tool that plugs into MT4 and MT5 and scans all available CFD markets for trading opportunities. It is one of the best technical analysis tools on the market, and we were pleased to see that HFM subscribes to its services.
Autochartist's advanced pattern recognition engine identifies the strongest potential trading opportunities and predicts future price movements. Some of Autochartist's key features are:
Chart pattern recognition

Fibonacci pattern recognition

Key level analysis

Pattern quality indication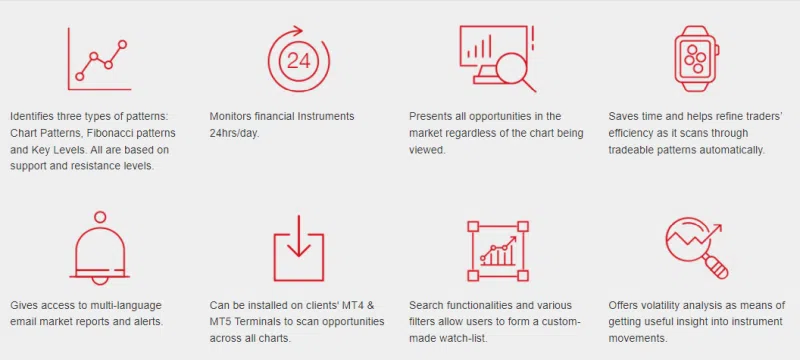 VPS
HFM clients with a minimum deposit of 5000 USD can also subscribe to a free VPS hosting service provided by external third-party providers. VPS services ensure trades are never disrupted by technological or connectivity issues, such as load-shedding or internet service failure. The VPS service is only available to traders using the MT4 platform. See below for more details: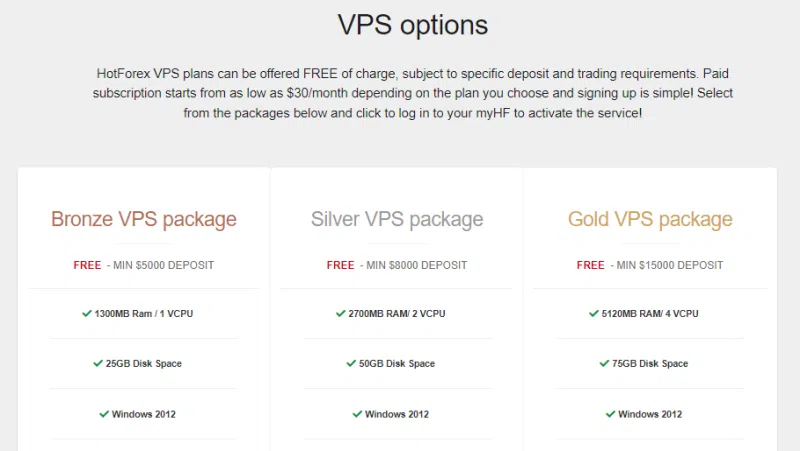 Premium Trader Tools
Available to all HFM clients with a minimum deposit of 100 USD, Premium Trader Tools give traders access to institutional quality technology, including advanced trading tools, user-configurable news and information, and trade analysis.  It also includes an array of sophisticated alarms, messaging systems, and live sentiment and correlation tracking. A few of the tools in the package include:
Trade Terminal: A feature-rich professional trade execution and analysis tool, providing several trading features and order controls that are not included in MT4 or MT5.

Mini Terminal: The mini-terminal facilitates trade management by making commonly-used trading features more accessible than in the native version of the software.



Connect: A customisable news feed aggregator and interactive economic calendar

Correlation Matrix and Correlation Trader: These tools work together to show correlations between pairs of trading symbols. It functions with any symbols available in the trading platform, allowing a calculation of the correlation between multiple asset classes against Forex. The Correlation Trader will then allow for a detailed inspection of the correlation between any two instruments.
Other trading tools available at HFM include a range of trading calculators, which can be used to calculate pip value, swap fees, risk percentages, and support and resistance levels.
Between the analytical tools and the sheer scale of market research on offer – in audio, text, and video format – from both in-house and third-party experts, we think HFM's market analysis is considerably more useful than most other brokers – though about equal when compared with other international brokers with large research and analysis budgets.
Scroll for more details


HFM (formerly known as HotForex) Education
Our review found that much like the market analysis at HFM, the educational content available is multi-format, of very high quality, and more useful for beginners than what is available at most other brokers. It also offers a free demo account that does not expire.
Scroll for more details


Because we opened a live account, we had access to the HFM e-Course.  We found the course well-structured, and it includes the basics of Forex theory and Forex trading, reading and interpreting charts, trading strategies, trading psychology, and technical analysis.
Video tutorials are available without registration; these cover introductory concepts, Metatrader tutorials, trading strategies, and lessons in economic theory.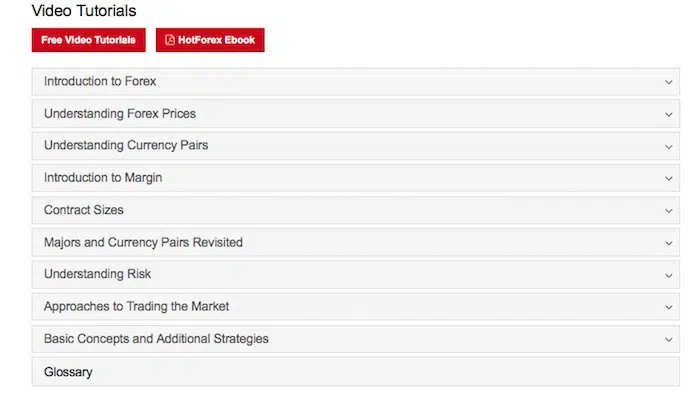 We enjoyed HFM's webinars. These cover current events, advanced trading strategy, and risk and money management, and are run every few days. The webinars do not require an account at HFM, but you will need to register.
Overall, we found that the quality of the educational content is very high and HFM obviously does its best to educate beginner traders. More experienced traders will also find the information and material on offer useful, especially the webinars and video analysis on more advanced topics. This is unusual in the industry, as while most brokers will try to educate beginners, traders with more experience are often underserved.
HFM (formerly known as HotForex) Demo Account
We opened a demo account and found that it does not expire, which is helpful for beginner traders.  We were provided a virtual starting balance of 100,000 USD, which can be topped up on request. We could view charts, news, and analysis, access the full-featured MT4 and MT5 platforms, and experience real-time prices and real forex market volatility.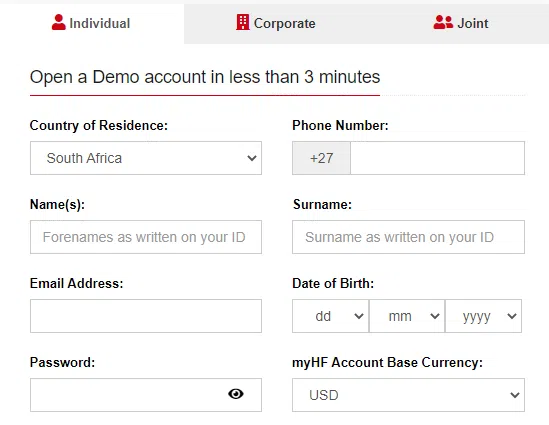 HFM (formerly known as HotForex) Customer Support
We found that HFM's customer support is better than most other brokers.
Award-winning customer service and a client-focused approach to business mean that beginner traders at HFM can rely on excellent support. 
Support is available 24/5 in over 27 languages via email, live chat, and telephone.  
For the review, we tested the live chat and telephone services. Our call was received immediately, and we were transferred to the correct department, which answered all our questions to our satisfaction. The live chat agents were also responsive and highly knowledgeable: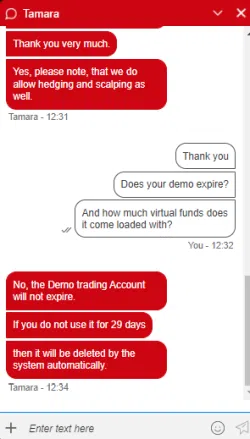 Safety and Industry Recognition
Regulation: HFM (formerly known as HotForex) is the unified global brand name of HF Markets Group. Entities within the group are regulated by the UK Financial Conduct Authority (FCA), the Cyprus Securities and Exchange Commission (CySEC), the Dubai Financial Services Authority (DFSA), the Financial Sector Conduct Authority of South Africa (FSCA), and the Financial Services Authority of Seychelles.  See below for HFM-listed companies:
HF Markets SA (PTY) Ltd – authorized by

FSCA (South Africa)

registration no. 46632

HF Markets (Europe) Ltd – authorized by CySEC (Cyprus) registration no.

183/12.

HF Markets (UK) Limited – authorized by FCA (UK) registration no.

801701.

HF Markets (DIFC) Ltd – authorized DFSA (Dubai) registration no. F004885.

HF Markets (SV) Ltd – authorized by FSA (St. Vincent and the Grenadines) registration no.

22747 IBC 2015.

HF Markets (Seychelles) Ltd – authorized by

FSA (Seychelles)

registration no. SD015.
Awards:
HFM has won numerous awards for its services and offerings over the years, recent awards include:
Most Transparent Broker 2020 (

The European – Global Banking & Finance Review Awards

),

Best Client Services – Global 2020 (

Capital Finance International Magazine

),

Best Broker in Africa 2020 (

AtoZ Forex

),

Best Trading Experience South East Asia 2020 (

International Finance Awards

),

Best Partners Program Global 2020 (

International Investor Awards

),

Excellence in Customer Service Global 2020 (

International Investor Awards

),

Best Global Copy Trading Platform (

Global Forex Awards 2019

) for the HFcopy trading service.
With many years of responsible operation, regulation from some of the strictest authorities in the world, and a long list of awards for customer satisfaction, HFM is considered a reliable and safe Forex broker. 
Scroll for more details


Evaluation Method
We value transparency and openness in the way we review the partners. To bring transparency to the forefront, we have published our review process which includes a detailed breakdown of the HFM offering. Central to that process is the evaluation of the reliability of the broker, the platform offering of the broker, and the trading conditions offered to clients, which are summarised in this review. Each one of these is graded on 200+ metrics across seven areas of interest, and an overall score is calculated and assigned to the broker according to the diagram below: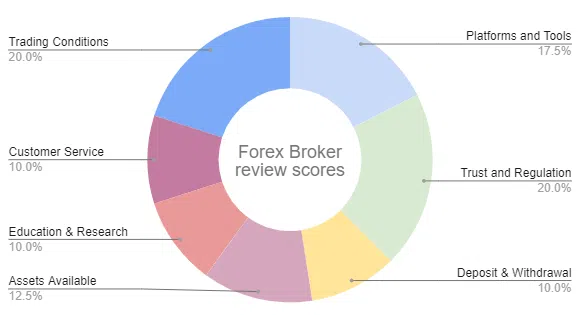 HFM (formerly known as HotForex) Risk Statement and Disclaimer
Trading Forex is risky, and each broker is required to detail how risky the trading of Forex CFDs is to clients. HFM would like you to know that: Trading Leveraged Products such as Forex and Derivatives may not be suitable for all investors as they carry a high degree of risk to your capital. Please ensure that you fully understand the risks involved, taking into account your investment objectives and level of experience, before trading, and if necessary, seek independent advice.
Disclaimer: Certain products & services may or may not be available to all clients depending on which HF Group entity their trading account(s) adheres to.
Legal: HF Markets SA (PTY) Ltd is authorized by the Financial Sector Conduct Authority (FSCA) as a Financial Service Provider (FSP) with authorization number 46632.
Overview
A trustworthy broker, HFM focuses on providing an optimal trading environment for its Ugandan clientele. It supports local bank transfers with instant deposits and two-day withdrawals. It also has an excellent customer support team that is responsive and knowledgeable.
Another attractive feature for Ugandan traders is that HFM offers trading on a range of DMA shares and has recently reintroduced cryptocurrencies to its books. One drawback is that Ugandan traders will be onboarded through HFM's SVG FSA-regulated entity, which means that they will have little recourse in case of a dispute with the broker.
Compare Brokers
Find out how HFM stacks up against other brokers.