Is FXTM Safe?
Yes, FXTM is a safe broker for Ugandan traders to trade with but it does not offer automatic negative balance protection. 
FXTM is regulated by some top-tier authorities, including the UK's FCA and CySEC of Cyprus. Ugandan traders will be trading under the FSC of Mauritius which handles most of FXTM's international business outside of Europe. The FSC's rules are not as strict as regulators of the EU or UK, and Ugandans will have little recourse in the event of a dispute with FXTM. 
We still consider FXTM a safe broker to trade with. Traders from Uganda can take comfort in the fact that FXTM has a good reputation and its UK and European subsidiaries are regulated by some of the world's best authorities. 
Safety Features: As mandated by the FSC, FXTM segregates all funds from the company's operating capital at top-tier banks and will not use client funds in its operation or any other investment.  But we were disappointed that negative balance protection is only available on a discretionary basis, and requests are evaluated case by case.
Company Details:
Scroll for more details


We confirmed each of the licences and regulations on the regulator's online register. See below for details of FXTM's FSC regulated entity. Note that FXTM's Mauritius-based entity goes by the name of Exinity Limited:

FXTM's Trading Instruments
FXTM's range of trading instruments is poor compared to many of its competitors and it has no cryptocurrencies to trade at all, but leverage of 2000:1 is available on major Forex pairs.  
In our review of FXTM, we found that it offers a disappointing range of financial assets compared to other similar brokers. This holds true for its stock CFDs and commodities on offer. It also lacks other popular products such as cryptocurrencies, futures, bonds, and ETFs.
High leverage: FXTM offers some of the highest leverage in the industry, up to 2000:1 on major Forex pairs. Traders should be careful when trading with such high leverage, especially on accounts with low minimum deposits, as it could lead to an account wipeout or even a negative balance.
Scroll for more details


Forex pairs: FXTM offers 62 Forex pairs, a larger range than other brokers. The maximum leverage on currency pairs is 2000:1 but limited to 1000:1 on the Micro Account.
Spot Metals: FXTM offers five silver and gold crosses with the EUR, USD, and GBP. This is an average selection of metals compared to other brokers. Maximum leverage is 500:1 on spot metals.
Spot Indices: FXTM offers 11 spot indices, a narrow range compared to other brokers. The maximum leverage is up to 500:1 on spot indices.
Stock CFDs: FXTM offers 172 stock CFDs to trade, a smaller range than is offered by other similar brokers. The maximum leverage is up to 500:1.
Commodities: FXTM offers three of the most common spot commodities to trade, including UK Brent, US Crude, and US Natural Gas. Maximum leverage is up to 200:1.
Real Stocks: FXTM offers commission-free real stocks for non-EU clients. Real stocks are unleveraged products.
Overall, we found that FXTM's range and depth of trading instruments are limited compared to many other brokers.   
FXTM's Trading Fees and Accounts
FXTM offers three accounts, which is average compared to other brokers, but we were disappointed that FXTM's trading fees are higher than other brokers on two of its three accounts.  
Trading Fees:  Our review found that trading costs at FXTM vary depending on the account type chosen by a trader. Trading costs are higher than average on its commission-free Micro and Advantage Plus accounts, with spreads of 1.5 pips (EUR/USD), but significantly lower on its Advantage Account.
Account Trading Costs:
Scroll for more details


We opened and tested all FXTM's accounts:
Micro Account:

This account is aimed at beginner traders with a low minimum deposit and instant execution. Only available on MT4, this account features micro-lots and spreads that are wider than other brokers – starting at 1.50 pips. Maximum leverage is up to 1000:1 and stock CFD trading is unavailable. 
Advantage Plus Account:

The first of two market execution accounts at FXTM, this account is commission-free but spreads start at 1.50 pips on the EUR/USD, which is wider than most other brokers. The minimum deposit on this account is 500 USD and floating leverage is up to 2000:1.
Advantage Account:

A good account for more experienced traders, spreads start at 0.0 pips on the EUR/USD, which is tighter than other similar brokers, and instead of a spread markup, traders will pay a variable commission of 0.4 – 2 USD per side, depending on volume traded. The minimum deposit on this account is also 500 USD and leverage is set at a maximum of 2000:1.  
Deposits and Withdrawals
FXTM has a wide variety of deposit and withdrawal methods for Ugandan traders, but we were disappointed that its charges high withdrawal fees.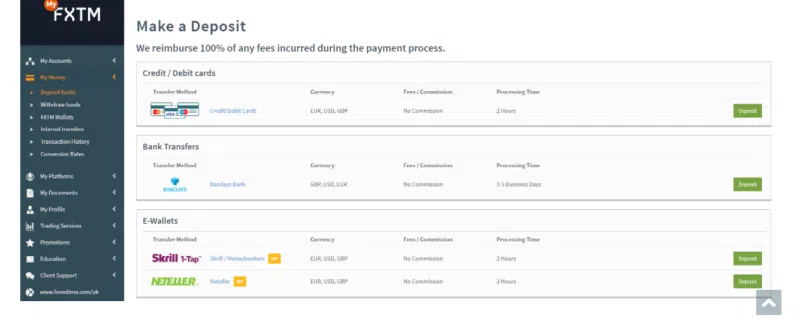 Like other well-regulated brokers, FXTM does not allow funding to or from third parties. No matter your deposit method, the withdrawal of all profits must be made by bank transfer to a bank account in your name.
Accepted Deposit Currencies: FXTM only allows trading accounts to be denominated in EUR, USD, GBP and NGN. Because we were depositing funds from a Ugandan bank account into a USD-based account, we were charged a currency conversion fee on both our deposit and our withdrawal. 
Funding methods: We were pleased to note that FXTM offers a large number of deposit and withdrawal methods. No fees are charged for deposits, and FXTM even reimburses its clients for any fees incurred during the deposit process, but unfortunately, fees are charged on all withdrawal methods.
See below for a list of payment options:
Scroll for more details


Credit card/Debit cards (Visa/Mastercard/Maestro): Deposits are instant and free.  Withdrawals are charged at 2 EUR/3 USD/2 GBP and are processed in 24 hours.

Bank Transfer: Bank transfers are supported, and no commission is charged on deposits, but 1 USD is charged for withdrawals.  Deposits are processed instantly, but withdrawals take up to 24 hours.

E-wallets: FXTM supports Neteller, Skrill, FasaPay, and Perfect Money.  Deposits are instant and free.  A commission of between 0.5% and 2% is charged on withdrawals, and these are processed in 24 hours.  

International Bank Wire: No commissions are charged on deposits, and these are processed within 3-5 days, but withdrawals are charged at 30 EUR.  Withdrawals are processed in 24 hours. 
Overall, FXTM provides various payment methods, and its processing times are quicker than other similar brokers.  We were disappointed that fees are charged on most withdrawal types.
Mobile Trading
FXTM also has its own trading app that integrates well with MT4, but we were disappointed that it does not support MT5 or investment accounts
MT4, MT5, and the FXTM mobile apps are available on both Android and iOS. We downloaded and tested them on an iOS device. 
FXTM Trader App
User-friendly: FXTM has developed its mobile trading platform, the FXTM Trader app.  We found that the app was very easy to set up and use. It also uses a biometric login, which is convenient. We found it easy to search for and monitor our assets and trades:
Account Management: Another benefit of using the app is that you can easily deposit, withdraw and keep track of your funds. The app has a great drop-down menu, with options for education and market analysis, making it a good resource:
Overall, we liked how user-friendly the app is, and its simple design will appeal to beginner traders.  
MT4/MT5
We found that there was some loss in functionality when compared to the desktop trading platforms, including reduced time frames and fewer charting options, but we were able to close and modify existing orders, calculate profit and loss, and trade on the charts.  
However, unlike the desktop version of the platform, the design is clean and it is easy to use. Additionally, the search functionality is far superior – you can search for products easily by typing the name of the product or by navigating the category folders.
Other Trading Platforms
With both MT4 and MT5 on offer, in addition to its proprietary FXTM Trader app,  we found that FXTM's platform support is better than other Forex brokers. FXTM also has one of the best copy trading platforms in the industry. 
We rigorously tested the MT4 trading platform. See below for more details:
Metatrader 4 
We found that FXTM offers the standard version of MT4 plus six add-ons, transforming MT4 into a state-of-the-art trading platform. Most brokers only provide the out-of-the-box version, which does not provide all the necessary functionality (click here for more details on the MT4 trading indicators).
As you can see below, FXTM's MT4 trading platform looks slightly outdated, but it is highly customisable. There are also three chart types, including Line, Bar, and Candlestick charts and you can access a wide selection of indicators in multiple timeframes:

We found that it was fairly easy to add symbols to your watchlist, but that you could not search for a symbol by typing in its name: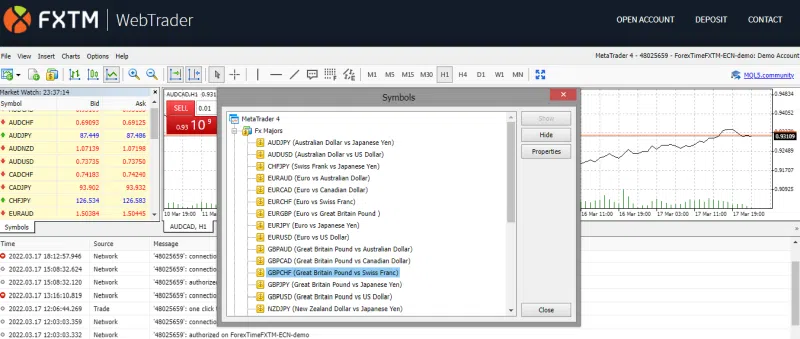 Metatrader 5
MT5, the newer version of its predecessor, MT4, is also available at FXTM. We recommend using MT5 if you are looking for a more powerful and faster trading platform when it comes to back-testing functionality for automated trading algorithms.  Additionally, traders prefer MT5 for its depth of market display, additional technical indicators, and analytical tools. 
The benefit of FXTM offering third-party platforms such as MT4 and MT5 is that traders can use the platforms should they choose to migrate to another broker.  However, MT4 and MT5 are often not as user-friendly as platforms that are developed in-house.   
Copytrading – FXTM Invest
We were impressed with FXTM's well-designed copy trading system, beginner traders without the expertise and skills for profitable trading may find it particularly useful.
FXTM Invest allows investors to choose a strategy manager from a list of top-rated traders.  Once an investor makes a minimum deposit of 100 USD/GBP/EUR, the Investor account will be activated, and clients can then copy the trades of the strategy managers.  With this system, investors can follow suitable strategies and receive a portion of the profits, and Strategy Managers can earn extra money by generating profits for their investors.  At the time of writing, there are over 600 strategy managers to choose from, so there is plenty of choice.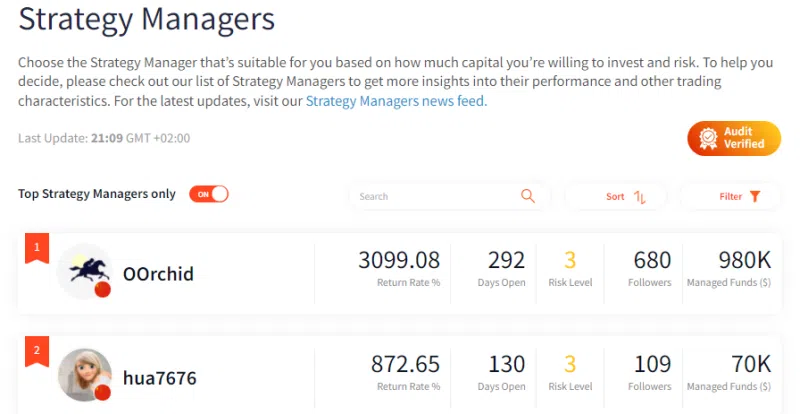 Platform Overview 
Scroll for more details


Opening an Account at FXTM
We found that opening a trading account at FXTM took less than 24 hours and that it was easy to upload our documents.
We tested the account opening process, which took approximately 10 minutes to complete, and once our documentation had been submitted, our accounts were ready for trading within about 24 hours. 
As a Ugandan trader, you are eligible to open an account at FXTM as long as you meet the following minimum deposit requirements:
Micro Account: 10 USD

Advantage Account: 500 USD

Advantage Plus Account: 500 USD 
How to open an account at FXTM:
We clicked on the "Open Account" button at the top of FXTM's main page.

We were then directed to FXTM's intake form which required us to fill in our personal details (including name, country of residence, and email address) and provide a telephone number so that FXTM could send us a verification PIN code.


Next, we were required to fill in our financial information and answer questions about our trading knowledge.

We were then required to choose our preferred trading account.  

Lastly, FXTM needed at least two documents to accept us as an individual client

– a copy of our National ID or Passport with the signature page, as well as a copy of a recent utility bill or bank statement.  

We sent our documents through as high-quality digital camera pictures.

We advise you to read FXTM's risk disclosure, customer agreement, and terms of business before you start trading. 
Once all the documents had been received, our account was ready for trading within one day. 

Overall, we found FXTM's account opening process fast and hassle-free compared to other similar brokers.
Market Research and Trading Tools
The market analysis section at FXTM is comprehensive, frequently updated, and very useful for traders of all experience levels. FXTM also offers a good range of trading tools to help traders make better decisions.
We were impressed with the variety of market research at FXTM, available in several locations:
Through the MetaTrader trading platform.

"Trading Services" section in MyFXTM: FXTM provides trading ideas based on technical tools. As mentioned above, this is also available on the app.

On FXTM's website, traders can find a comprehensive selection of market analysis materials, including: 
FXTM's trading tools include various sentiment indicators, technical indicators, a currency converter, a profit calculator, MT4 trading indicators, and a VPS service.
FXTM Pivots Points Strategy:

This allows traders to identify market sentiment and potential profit opportunities.  Three chart types are available in eight timeframes, and traders can choose between 5 calculation methods, including Standard, Fibonacci, DeMark, Camarilla, and Woodie Pivot Point.  Traders will also receive live updates of prices from FXTM's head of education.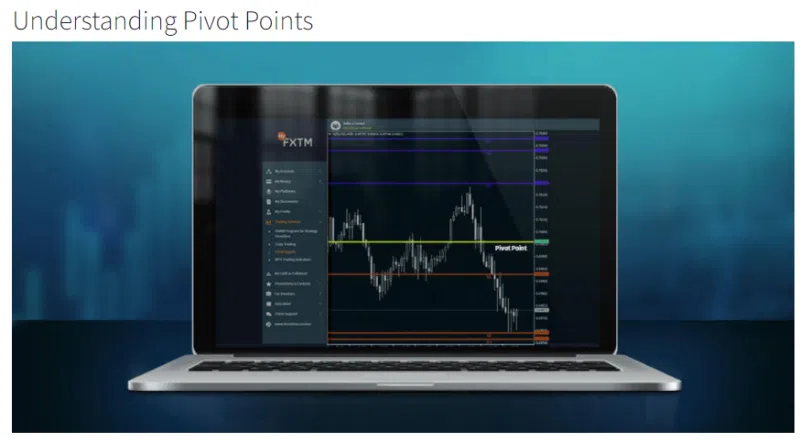 FXTM Trading Signals: Combines a range of tools into one, including popular technical indicators, a choice of 4 take-profit levels, and protective stop-loss recommendations.  
Currency Converter: FXTM assists traders in viewing how much their currency is worth in another foreign currency.  This tool is useful for identifying how much local currency needs to be deposited to meet the various minimum deposit requirements.
MT4 Trading Indicators: FXTM offers six MT4 add-ons to assist traders in optimising their trading strategies.  These include an Orders Indicator, a Pip Value Calculator, Pivots SR Levels, a Spread Indicator, Markets Data to CSV, and a Day Bar Info Indicator. 


VPS: FXTM clients with a minimum deposit of 5000 USD can also subscribe to a free VPS hosting service provided by external third-party providers. VPS services ensure trades are never disrupted by technological or connectivity issues, such as load-shedding or internet service failure.

FXTM Invest Profit Calculator: The profit calculator helps traders calculate the potential profits accrued by following a strategy provider. 
Overall, we found that FXTM's market analysis was written or curated by Forex experts, and full of detail and interesting leads for new trading opportunities. It also provides an excellent range of useful trading tools compared to other similar brokers.
Scroll for more details


Educational Material
We found the education section at FXTM is large, well-structured, in-depth, and more useful for beginners than the material available at other brokers. FXTM also provides traders with a free demo account to practice trading risk-free.
Our review noted that FXTM has a world-class education section available for free in 22 languages. Additionally, FXTM is one of the few brokers with weekend support, which is helpful for beginner or part-time traders. See below for details on FXTM's educational section:
Beginners Guide to Forex Trading: This guide introduces traders to Forex terminology and answers common FAQs for those just getting started. It is a good overview of Forex trading and links to more detailed sections of the Education mini-site so new traders can focus on what they want to learn.
  
Ebooks: Ebooks are written by an experienced FXTM staff member and cover topics such as the habits of successful traders and bearish candlesticks. To access these, you will be required to register, but won't need a live account.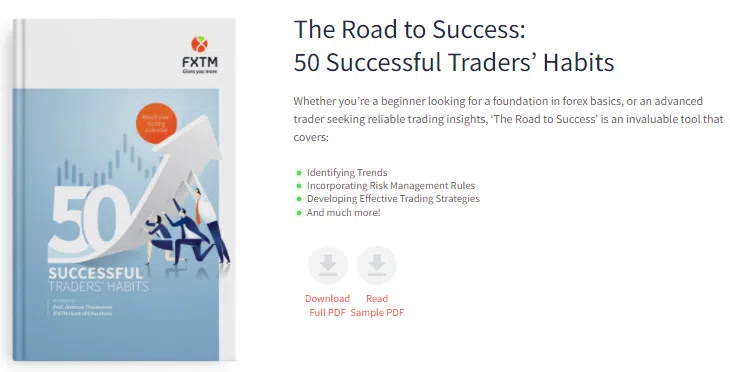 Forex Trading Strategies: A good overview of common strategies used in Forex trading and the indicators many traders use to make these strategies work for them.
Short Education Videos: These are aimed at new traders and are all between one minute and three minutes in length, perfect for beginner traders who want to get up to speed quickly. All are freely available on YouTube.


Education Videos: A set of videos for both beginner and experienced traders. These are longer and more detailed than the Short Education Videos and are also available on YouTube.
Education Articles: A library of free educational articles written by FXTM's Head of Education, the pieces are well-written and concise, even when tackling complex topics. Examples include Bearish Trend Reversals and Harmonic Patterns.
Forex Glossary: This is a comprehensive glossary of Forex terms – very useful for new traders.
Forex Trading Seminars: FXTM regularly hosts live workshops across the globe where you can learn directly from experienced traders in your language. Here you can see the current schedule and sign up for events. Be aware that to attend, you will need a live account with a minimum 200 USD deposit.
Forex Trading Webinars: FXTM also hosts frequent webinars in multiple languages. These require registration with FXTM but not a live account.
Demo Account: Traders can practice trading risk-free using all trading strategies in a real trading environment on FXTM's demo account. In addition, traders can increase the virtual balance on their demo account from within the MYFXTM portal.  Demo accounts will remain active as long as traders log in to the trading platform at least once every 14 days.
Overall FXTM's education section is an excellent resource for new traders, and much of it is available for free.
Scroll for more details


Customer Support
With weekend support, we found that FXTM's customer support is excellent compared to other similar brokers.
Support is available Monday to Friday: 24 hours, Saturday: 11:00-16:00, and Sunday: 12:00-20:00  (GMT+2/GMT+3 during Daylight Saving Time) in over 22 languages via email, live chat, email, telephone, and messenger services (including Whatsapp, Viber, and Telegram).
For the purposes of the review, we tested the live chat service. We found the live chat agents were able to answer all our questions quickly and to our satisfaction.  They also provided links and extra reading material where appropriate.
After logging into the live chat we were connected to an agent who replied to our message immediately, as shown below: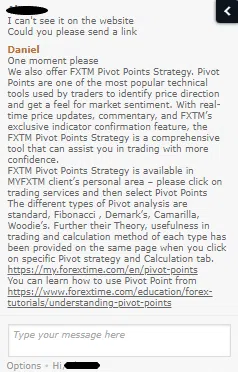 FXTM in their own words
Safety and Industry Recognition
Regulation: FXTM maintains regulation from a number of top-tier regulators, including CySEC of Cyprus, the FCA of the UK. It also maintains regulation from the FSC of Mauritius, through which global traders are onboarded:
ForexTime Limited

is regulated by the Cyprus Securities and Exchange Commission (CySEC), license number 185/12.

ForexTime Limited

is registered with the UK Financial Conduct Authority, licence number 600475.

Exinity Limited

is regulated by the Financial Services Commission of the Republic of Mauritius with an Investment Dealer License, license number C113012295.
Awards
FXTM has won multiple international awards from the wider industry, further burnishing its credentials as a secure broker. Recent awards include:
Best Trading Experience 2020/2019 (

World Finance

)

Best European Forex Affiliate Broker Programme 2019 (

Global Forex Awards

)

Best Trading Conditions 2019 (

World Finance Awards

)

Best investment Broker 2019 (

World Finance Awards

)

Best Forex Education Provider Africa 2018 (

International Business Magazine

)

Best Trading Conditions 2018 (

World Finance

).
Evaluation Method
We value transparency and openness in the way we review the partners. To bring transparency to the forefront, we have published our review process that includes a detailed breakdown of the FXTM offering. Central to that process is the evaluation of the reliability of the broker, the platform offering of the broker, and the trading conditions offered to clients, which are summarised in this review. Each one of these is graded on 200+ metrics across seven areas of interest, and an overall score is calculated and assigned to the broker according to the diagram below: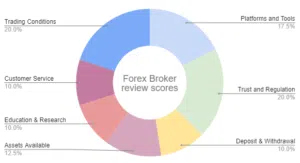 FXTM Risk Statement
Trading Forex is risky, and each broker is required to detail how risky the trading of Forex CFDs is to clients. FXTM would like you to know that: CFDs are complex instruments and come with a high risk of losing money rapidly due to leverage. 81% of retail investor accounts lose money when trading CFDs with this provider. You should consider whether you understand how CFDs work and whether you can afford to take the high risk of losing your money.
Overview
FXTM is a good all-round broker, but it does have some limitations. Firstly, Ugandan traders may be concerned about the lack of regulatory oversight and their lack of options in the event of a dispute with FXTM. Secondly, traders may be disappointed in the relatively small number of financial assets available for trading. Finally, FXTM charges high non-trading fees, including commissions for withdrawals.
That said, both MT4 and MT5 are supported in addition to the FXTM Trading app and a wide range of trading tools. It also offers a world-class selection of educational and market analysis materials and an excellent copy trading platform to get new traders started. Additionally, its customer support is available 24/7, which is exceptional in an industry where the norm is 24/5.
Compare Brokers
Find out how FXTM stacks up against other brokers.