Pros
South African broker; FSCA regulated (FSP 49846) since 2009
Fast STP trade execution and negative balance protection for all traders
Tight spreads starting at 0.6 pips and no commission
ZAR accounts available; trade in Rand with fast deposits and withdrawals
Cons
Limited trading platform choice: MT4 and CloudTrade only.
Is BlackStone Futures Safe?
BlackStone Futures has been operating in Johannesburg,  Uganda since 2009 and is the trading name of Trade Nation Financial Pty Ltd, the Ugandan subsidiary of FINSA Europe, an FCA and ASIC-regulated broker based in London, UK. FINSA Europe is better known as the operator of the Core Spreads brokerage service, which also has operations in Uganda under the Trade Nation Financial umbrella.
Trade Nation Financial Pty Ltd has been regulated by the FSCA in Uganda since June 2019 with the FSP 49846, though from 2009-2019 BlackStone Futures was regulated by the FSCA as BlackStone Marketing Pty Ltd.   See below for more details:
Trade Nation is a trading name of Finsa Europe Ltd, a financial services company authorised and regulated by the Financial Conduct Authority under firm reference number 525164. 
Trade Nation is a trading name of Finsa Pty Ltd, a financial services company authorised and regulated by the Australian Securities and Investments Commission, ACN 158 065 635, AFSL No. 422661.
Trade Nation Financial (Pty) Ltd, registration number 2018/418755/07, is authorised and regulated by the Financial Sector Conduct Authority, FSP No 49846.
Trade Nation Ltd, registration Number 203493 B, is authorised and regulated by the Securities Commission of the Bahamas, SIA-F216.
Ugandan clients will be trading under the subsidiary, Trade Nation Financial (Pty) Ltd.  The Ugandan FSCA is well-respected, but is not considered one of the best international regulators.  Its rules are somewhat relaxed compared to those of the regulators in the EU and the UK.  For example, while the FSCA ensures that brokers hold client funds in segregated accounts, they do not force brokers to provide negative balance protection or to comply with any leverage restrictions. Additionally, the FSCA does not insure client funds through compensation schemes. 
However, because BlackStone Futures is based in Uganda, all client deposits are kept in Ugandan banks and FSCA regulation means that the repayment of funds in case of broker bankruptcy is much simpler.  Blackstone Futures also segregates all client funds from its operating capital and all clients are offered negative balance protection.  
An STP forex broker, Blackstone Futures will never be the counterparty to your trades, removing any conflict of interest.  
Overall, because of its long history of responsible behaviour, strong international and local regulation, and the fact that it is an STP broker, Blackstone Futures is considered a trustworthy broker to trade with.
Scroll for more details


Trading Fees
Blackstone Future's Forex trading fees are lower than other brokers.
An STP-only broker, Blackstone Futures offers one account denominated in three different base currencies (click here for more on Blackstone Future's base currencies) on two different platforms.  
Trading conditions vary depending on the platform chosen, and Blackstone Future's trading costs are lower than average.  
Unfortunately, Blackstone Futures does not publish the average spreads for each financial instrument on its website.
Blackstone Future's accounts were assessed to compare the costs to those of other brokers.  The costs were evaluated based on the trading fees on one lot (100 000 USD) on the EUR/USD, including the spread and commission. 
When making this calculation, we use one lot of EUR/USD as a benchmark as it is the most commonly traded currency pair and it usually has the tightest spread.
Trading Cost Formula: Spread x Trade Size + Commission = Cost in Secondary Currency (USD):

As you can see from the table above, the trading costs on both accounts are 6 USD, which is much lower than those charged by other brokers on similar account types.  The average cost for trading on one lot of EUR/USD among other brokers is about 9 USD per lot.  The only difference between the three accounts is the base currency in which each is denominated.  
Scroll for more details


Swap Fees
The other main trading cost to consider is the overnight swap fee. This is charged on trades held open overnight and is derived from the difference between the interest rates of the two currencies being traded. Unfortunately, Blackstone Future's swap rates are not published on its website.  Traders can access the swap rates from within the trading terminal. 
On the whole, Blackstone Future's CFD trading fees are lower than other similar brokers, and its minimum deposit requirements are reasonable too.   
BlackStone Future's Non-trading Fees 
BlackStone Future's non-trading fees are lower than other similar brokers.
BlackStone Futures does not charge any account fees, nor fees on deposits or withdrawals.  No fees are charged on inactive accounts either, however, if you have not placed trades or for a period of 90 days, any bonuses or credit that has been applied to your account may be removed.   
BlackStone Futures charges a flat rate of 10c (Ugandan) on all currency conversions.  For example, if you want to convert 2000 ZAR to USD, and the rate is 14.59 ZAR to the USD, Blackstone will charge 14.69 ZAR, which is still cheaper than the currency conversion fees charged by the bank.  
Account Opening
The account opening process is easy, hassle-free, and fast.
All Ugandan traders can open an account at BlackStone Futures, but will need to meet the minimum deposit amounts to do so, these are:
ZAR Account:1,000 ZAR
USD Account: 100 USD
GBP Account: 100 GBP
Opening a live account at BlackStone is easy and fast and while it also offers Corporate Accounts and Joint Accounts, we will focus on opening an Individual Account:
Initially, you will need to click on "Open Account" and register your name, email address, and choose a password.  
Thereafter,  you will choose between a Live or a Demo Account.
On choosing a demo account, you will have to choose your trading platform (either CloudTrade or MT4).
If you register for a live account, you will be directed to fill in the KYC (know your customer) information, including date of birth, identity number, place of residence.  You will also have to fill in your financial details so that BlackStone can assess your suitability for trading.  This is a responsible move on the part of the broker in an industry that is often accused of an irresponsible approach to consumer protection.  
Once this step is complete, Blackstone Futures needs at least three documents to accept you as an individual client:

Proof of Identification – current (not expired) coloured scanned copy (in PDF or JPG format) of your passport. If no valid passport is available, a similar identification document bearing your photo such as an ID card or driving licence will work.
A proof of address – a clear copy of your current Physical Address in your name.  You can use a utility bill, bank statement, or affidavit, and the documents should not be older than three months.  
A bank statement, which has the following details: your full name, physical address, bank name, account number, and account particulars.  The document should not be older than three months.  

Once this step is complete, you will need to make at least the minimum required deposit for your chosen account via one of Blackstone Future's deposit methods. For more on BlackStone's withdrawal and deposit methods, click here.
We advise you to read BlackStone Future's risk disclosure, customer agreement, and terms of business before you start trading.
Overall, the account opening process at BlackStone Futures is hassle-free and accounts are generally ready for trading within 10 min. 
Blackstone Futures Account Types
Blackstone Futures offers a single live account denominated in various base currencies on two different platforms.  While trading conditions are good, the lack of account choices for more experienced traders is notable.
Blackstone Futures offers a single live account which is more suited to beginners than experienced traders.  
Beginner traders are inexperienced traders who have never traded before, or who have been trading for less than a year.  Beginner traders often do not want to risk trading large sums of money and generally will not be able to trade full-time during the workweek.  Accounts with lower minimum deposits and which allow trading in micro-lots are generally more suited to beginner traders. However, spreads on these accounts are often wider than those with higher minimum deposits. 
Blackstone Futures offers a beginner-friendly account with a low minimum deposit, and tight spreads, which offers trading in smaller volumes, measured in micro-lots.
Experienced traders tend to prefer accounts with higher minimum deposits, tighter spreads, and a commission per lot traded, which is unavailable at Blackstone Futures.    
BlackStone Futures advertises itself as an STP-only broker, which allows for near-instant execution on both its ZAR Account and USD Account. Both accounts have the option of using either BlackStone's proprietary online platform Cloudtrade or MT4, though trading conditions vary depending on your platform choice.
Default leverage is set to 1:100 for all clients.  This is a responsible move on the part of the broker to avoid over-leveraging because higher leverage carries a higher level of risk.  After a period of responsible trading, you can request a leverage adjustment of up to 1:400. 
Blackstone Futures offers a variety of different CFDs to trade including Forex (click here for more on Blackstone Future's tradable instruments).   See below for more on Blackstone's account types:
Scroll for more details


Demo Account – Demo Accounts are available for both account types and both platforms. Demo Accounts are not time-limited and will only be disabled after 30 days of inactivity.
ZAR Account – For beginner Ugandan traders, there are many benefits to trading with the ZAR Account, not least the significantly lower risk per point when compared to the USD Account. ZAR Account holders will also be immune from the exchange rate risk associated with USD Accounts and deposits and withdrawals and deposits will be quicker.  Spreads start at 0.6 pips on the EUR/USD, which is tighter than other similar brokers and no commissions are charged.    The minimum deposit on this account is 1000 ZAR and it's available on both the MT4 and CloudTrade platforms.
 USD Account – BlackStone's USD Account is recommended for more experienced traders who are willing to bear the exchange rate risk and trading risk associated with this account. With a 100 USD minimum deposit, this account has a much higher minimum deposit and you will also have to deal with delayed deposits and withdrawals.  Spreads also start at 0.6 pips on the EUR/USD, and again this account is commission-free.  
A Note About Platform Choice
BlackStone Futures offers both CloudTrade and MT4 on both accounts, and trading conditions differ depending on which platform you use. While CloudTrade offers over 750 tradeable instruments, users will find that leverage is fixed at 100:1 or lower (50:1 on the USD/ZAR for instance).
On the MT4 platform, leverage is also initially limited to 100:1 but can be increased to 400:1 once you have a track record of responsible trading.
We will discuss the two platforms in more detail below.
Overall, BlackStone Futures only offers one live account denominated in two different currencies, which is suitable for beginner traders, with tight spreads and low minimum deposit requirements.  
Deposit and Withdrawal
BlackStone Futures charges no deposit or withdrawal fees, but it offers a limited range of funding methods compared to other brokers. 
In line with Anti-Money Laundering policies, deposits and withdrawals at Blackstone Futures cannot be made to/from third-party accounts. Blackstone only offers deposits via bank transfer, debit card or credit card, Sktrill, Neteller, and Ozow.   
BlackStone Futures only allows withdrawals via bank transfer, withdrawals are processed the same day if received before 13:00 and will usually post to your bank account in 24-72 hours.
BlackStone Futures supports the following methods for deposits:
Bank Transfer: For Ugandan bank accounts this will usually reflect in 24-48 hours.  An EFT or ATM Deposit into the two Bank accounts held by BlackStone Futures will be instant.
Debit/Credit Card: This method is instant but can only be used to fund ZAR Accounts
Ozow: Using Ozow to make a bank transfer will reflect instantly in your trading account, but this method can only be used to fund ZAR Accounts.
Skrill/Neteller: These methods can be used for depositing funds in any of Blackstone Future's listed base currencies.  
Overall, BlackStone Futures offers a limited number of funding and withdrawal methods, but deposits and withdrawals are free.  Deposit and withdrawal times for ZAR accounts are relatively quick.  
Bonus
BlackStone offers a 30% deposit bonus of 1,000-15,000 ZAR with an additional 20% up to 100,000 ZAR. This bonus is offered with no limitations, lock-in periods, or minimum lot volumes with full access to your funds and profits.
Base Currencies (Trading Account Currencies)
BlackStone Futures has a limited number of base currencies compared to other brokers, but it offers accounts denominated in ZAR.
Deposits to trading accounts can be made in most national currencies, which are subsequently converted into USD or ZAR. This is a benefit for Ugandan traders who will be able to avoid paying conversion fees for deposits and withdrawals.  Additionally, having a ZAR account means that deposits and withdrawal times are much quicker.  
However, it may be better for traders that trade in large volumes (more than 10 lots a month) to open an account denominated in USD at a digital currency bank, especially for trading on assets such as the EUR/USD. This is because when trading a USD quoted currency pair with a ZAR account, there will be a small conversion fee for every trade made.
Overall, BlackStone offers fewer trading account currencies than most other Ugandan brokers, but it offers accounts denominated in ZAR. 
Trading Platforms
Blackstone Future's trading platform support is average compared to most other brokers.  
BlackStone Futures offers its proprietary browser-based CloudTrade platform and also supports MT4, the industry-standard trading platform.
The advantage of brokers offering third-party platforms such as MT4 is that traders can take their own customised versions with them should they decide to migrate to another broker.  Additionally, BlackStone offers its own proprietary platform, CloudTrade, which is more beginner-friendly than MT4.
MetaTrader 4
The MT4 trading platform is the most widely used Forex trading platform and can also be used to trade other instruments like commodities, cryptocurrency, stock index, and stock CFDs. Though it is now showing its age, MT4 is still very popular for its auto trading features that enables algorithmic trading and strategy backtesting with expert advisors (trading robots).  MT4 is available in over 31 languages and boasts wide community support.  Other features of MT4 include:
A built-in library of more than 50 indicators and tools to streamline the analysis process
An impressive array of analytical tools, available in nine timeframes for each financial instrument.
Algorithmic trading, which allows any trading strategy to be formalised and implemented as an Expert Advisor. 
Customisable alerts
Access to MetaTrader market and MQL4 community. 
While MT4 has great customizability, the platform feels outdated, and some of the features may be hard to find.  In addition, only the basic orders are available, including Market, Limit, Stop, and Trailing Stop.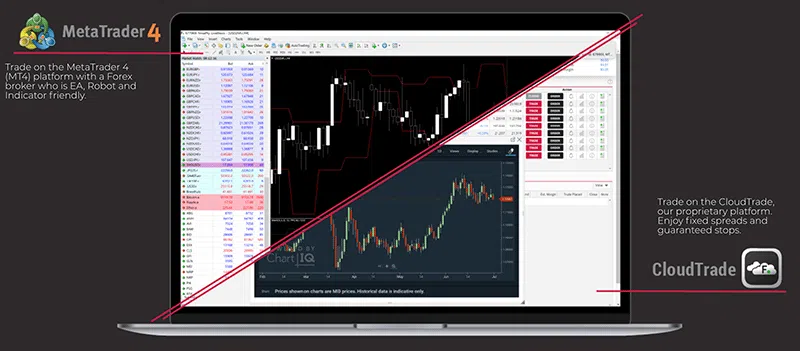 CloudTrade
BlackStone Future's browser-based CFD trading platform, CloudTrade is also available as a mobile app and offers an advanced charting package.  It allows for instant execution of market orders as well as providing a number of resting order types. CloudTrade has been designed with ease of use, efficiency, and simplicity in mind and allows clients to trade multiple asset classes, not just Forex.  Overall, the CloudTrade platform is a good choice for beginner traders. 
On the whole, BlackStone Future's platform support is about average when compared to other brokers, but with the option of both MT4, traders can take their own customised version with them should they choose to move to another broker.  BlackStone Future's proprietary CloudTrade platform is simple and easy to use, making it a good choice for beginner traders.   
Scroll for more details


Mobile Trading Apps
Both MT4 and CloudTrade are available as mobile apps on both Android and iOS. The MT4 mobile app offers basic trading, research, and account management functionality. Traders can open/close/edit positions, add stops to open positions, and delete working orders. Research and analysis are available on real-time charts, and automated alerts can be used to identify trading opportunities.
The CloudTrade app offers real-time quotes of financial instruments, the full set of trade orders, including pending orders and support of all types of execution modes, and your complete trading history.
Blackstone Future's Trading Tools
Blackstone Futures offers a severely limited number of trading tools compared to other similar brokers, and it doesn't offer technical analysis tools such as Autochartist or Trading Central.
Blackstone offers a Market Sentiment tool and a basic Economic Calendar
The Forex Market Sentiment Indicator shows you how many traders are buying (driving the currency price up) and selling (bringing the currency price down). The Forex Market Sentiment Indicator is simply a sliding scale, showing you how people are feeling about certain currency pairs. 
Scroll for more details


Overall, Blackstone futures would do well to add some more tools to its trading arsenal to help clients make better trading decisions.  
Blackstone Future's Financial Instruments
The choice of financial assets offered by Blackstone Futures is limited compared to other similar brokers, and it no longer offers trading on cryptocurrencies.  
Blackstone Future's range of financial instruments for CFD trading (click here for more details on CFD trading), includes Forex, shares, indices, and commodities.  Unfortunately, Blackstone Futures no longer offers trading in cryptocurrencies.
Scroll for more details


Forex: Blackstone only has 32 currency pairs available for trading which is limited compared to the industry average.  These include majors (EUR/USD, GBP/USD, and USD/JPY) and minors (NZD/CAD, EUR/JPY, and USD/ZAR). The maximum leverage on Forex pairs is up to 1:400, but is limited to 1:100 on the CloudTrade platform. 
Share CFDs: Blackstone offers 40 individual share CFDs, which is limited compared to other large brokers.  The selection available includes some of the major US, UK, European, and Ugandan Exchanges. Leverage on share CFDs is up to 1:20. 
Shares: Blackstone Futures offers share trading on over 600 equities on the CloudTrade platform.  Due to the nature of this asset, no leverage is offered.   
Indices: There are 25 indices available for trading at Blackstone Futures, which is limited compared to other brokers.  The most popular indices are those that combine the shares of some of the largest and globally acknowledged companies.  Leverage is up to 1:200 on indices.  Note that there are more indices available on the CloudTrade platform than on MT4.  Additionally, Minimum trade size for all the above markets is 50c on CloudTrade and 10c on MT4.
Commodities: Blackstone Futures offers trading on 11 commodities, which is around the industry average.   These include metals such as gold, silver, aluminium, and zinc, and energies such as US crude and Brent futures. The leverage is up to 1:200 on gold and silver, but up to 1:50 on energies.
Scroll for more details


Overall, the selection of CFD trading instruments available at Blackstone Futures should be viewed as the bare minimum and is not adequate for professional clients. Additionally, clients may be disappointed that Blackstone no longer offers cryptocurrency trading.  However, Blackstone offers trading on over 600 shares, which is much more than is usually on offer at other brokerages.  
BlackStone Futures for Beginners
In a refreshing change of pace, BlackStone Futures devotes much of its website to educational material for new traders across several sections – we especially like the focus on helping beginner traders avoid the mistakes that lead to account wipeouts.
Market analysis is also available on a near-daily basis through BlackStone's Telegram and Instagram accounts.
That BlackStone Futures offers trading accounts in ZAR is a bonus for beginner Ugandan traders too, as trading in ZAR will be cheaper and easier to fund than USD accounts.
Education Material
BlackStone Futures offers a range of educational material across the website. The three main sections are:
Masterclass: BlackStone holds regular Masterclasses at its offices in Rosebank, there is no fee to attend and new traders have universally excellent feedback regarding the quality of these sessions.
Webinars: Alongside the in-person Masterclass, BlackStone Futures also offers weekly webinars. These are free to register, and all the previous webinars are free to watch on BlackStone Future's webinar channel.
Education: Under the Education header, BlackStone Futures offers a guide to consuming the educational content available with links out to the relevant articles and tools. Particularly useful are the short description under each listing telling traders what they can expect to learn. Also in the education section are short guides to the MT4 and CloudTrade platforms, an FAQ section, and links to BlackStone Futures Market Sentiment and Economic Calendar tools.
Overall, this is a very impressive educational offering from BlackStone Futures and something we would like to see replicated by more Ugandan brokers. It shows a real sense of care for the Ugandan trading community and provides traders with the security of knowing that their broker truly wishes them success in the Forex market.
Scroll for more details


Analysis Material
Apart from the Economic Calendar and Market Sentiment tool, BlackStone Futures also offers daily market analysis via its social media channels. Analysis is available in video and text format on the Facebook page and as text across Instagram, Telegram and WhatsApp. The analysis is brief, informal, and both useful and thought-provoking for new traders in particular.
Scroll for more details


While we don't expect Ugandan brokers to be able to compete with large international brokers in terms of analytical output it is good to see regular guidance on offer, even if it necessarily briefer and less detailed than from BlackStone Future's larger international peers.
Customer Support
With a local Ugandan service team, Blackstone Future's customer support is better than most other brokers.
A client-focused approach to business means that beginner traders at Blackstone can rely on excellent support. 
Customer support is available 7 am-10 pm Monday-Friday and 12 pm-10 pm on Saturday/Sunday; the trading desk is available 24/5. Both customer support and the trading desk are available by live chat, telephone, email, Telegram, WhatsApp, and via a call back service. Local phone numbers (available in Uganda) and local email addresses give clients direct free access to quality customer service in their language.  BlackStone Futures is also very active on social media via Twitter, Facebook, and Instagram.
For the purposes of this review, we found the customer support extremely responsive, knowledgeable, and they were able to answer all our questions to our satisfaction.
Evaluation Method
We value transparency and openness in the way we review the partners. To bring transparency to the forefront, we have published our review process that includes a detailed breakdown of the BlackStone Futures offering. Central to that process is the evaluation of the reliability of the broker, the platform offering of the broker, and the trading conditions offered to clients, which are summarised in this review. Each one of these is graded, and an overall score is calculated and assigned to the broker.
Risk Statement
Trading Forex is risky, and each broker is required to detail how risky the trading of Forex CFDs is to clients. BlackStone Futures would like you to know that: Trading foreign exchange and/or contracts for difference on margin carries a high level of risk and may not be suitable for all investors. Before deciding to trade the products offered by BlackStone Futures you should carefully consider your objectives, financial situation, needs, and level of experience. You should be aware of all the risks associated with trading on margin.
Overview
BlackStone Futures is a well-regulated Ugandan broker offering trading on multiple assets, including Forex, indices, equities, share CFDs, and commodities.  Trading is offered on MT4 and its proprietary Cloud Trade platform, and traders have the choice between a ZAR account or a USD account with a higher minimum deposit.
No fees are charged for deposits or withdrawals, and for Ugandans who choose the ZAR account option, payments are fast.   Spreads are tighter than other brokers on both account options, and trading is offered in micro-lots.  BlackStone Futures also caters to beginner traders with its high-quality educational support along with excellent customer service that is available on weekends.
Compare Brokers
Find out how Blackstone Futures stacks up against other brokers.